Skills of Management Module
Are you on your journey towards your Manager or Supporter Wood Badge?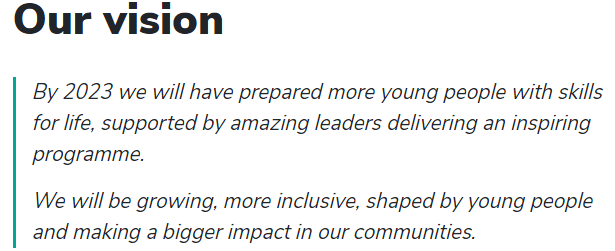 How do you manage and support amazing leaders delivering an inspiring programme? People are what Scouting is about and the effective skills that can bring them together to deliver great Programme can be learnt and developed.
Do you want to develop your leadership and management skills? What is your current style? How can you build a great team and motivate them to deliver quality programme? Could you be a better communicator and really listen?
This is an opportunity to discuss and practice different skills, network with other new managers and supporters, and gain support for your role. Expect to be actively involved most of the time. There is time set aside for you to plan how you would put this into effect after the course.
Your Skills for Life!
Whilst you will all have different starting points as a manager or supporter, you should have done the relevant independent learning as it is built on during the course. Check out which units relate to this course and work through them at your pace.
Catering and Accommodation
All food and drinks will be provided. That's lunch, dinner, breakfast and another lunch.
This course runs from 930am Saturday and after a break includes evening activities. On Sunday the course will wrap up late afternoon.
There are 3 options on accommodation;
stay onsite in the lodge in small shared rooms (bring your own bedding),
go home if geography allows or
book a B&B or hotel locally.
Butchers Coppice Camp Site
Holloway Avenue
Bear Cross
BH11 9JW Bournemouth
United Kingdom
If you opt stay offsite, please note you are expected to attend during Saturday evening. If you opt for B&B/hotel, this will be a cost for you or your county to pick up.
On the day
Aim to arrive 30 minutes early to give yourself time to register and have a drink and start to get to know everyone.
CHARGING POLICY : The course is free to you but your County will be charged for your place. The charge is non refundable but you may transfer you place to another adult by editing your ticket details using Eventbrite.
To sign up: https://www.eventbrite.co.uk/e/skills-of-management-som-lswr-registration-48057944606